Brother Tim Cindric Helps Give Penske Racing a Winner's Edge
Dec 20, 2013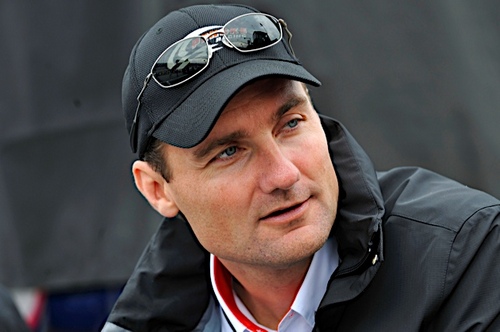 ALUMNI NEWS (Rose-Hulman)—As someone who's been making daily leadership decisions for a competitive IndyCar series race team, late-night telephone calls are nothing out of the ordinary for Tim Cindric. But, the 1990 Rose-Hulman mechanical engineering graduate even admits at being bewildered by a call he answered on a late October evening in 1999 from Roger Penske—the most recognizable name in American motorsports.
"First, I was taken aback because I had an unlisted telephone number. Then, I thought he was calling for my recommendation about someone joining his team," he recalls.
Penske was indeed in hot pursuit of someone to bring new, innovative ideas to Penske Racing. He wanted Tim Cindric.
So began a 14-year tenure leading what has often been referred to as the "New York Yankees of motorsports." Cindric has overall management responsibility for Penske's racing operations, including teams at the pinnacle of the NASCAR and IndyCar series. This has put him in the winner's circle at the Indianapolis 500 five times, the 2008 Daytona 500, three IndyCar championships, the 2012 Sprint Cup championship, and the 2010 Nationwide series title.
Cindric's career in motorsports has always been on a fast track. He achieved a goal to become a team manager by the time he was 35 years old, when he was named to lead Rahal-Hogan Racing at age 26. He was the Championship Auto Racing Teams (now IndyCar) series' Team Manager of the Year in 1998 and 1999.
Penske soon came calling, and by 2005 Cindric had added the responsibilities of managing Penske Performance Inc., managing all racing operations (Indy Car, NASCAR, and sports car). He attends board meetings and observes Penske's global business empire with revenues in excess of $19 billion.
"To be entrusted with my responsibilities is certainly more than I could have hoped for at this point in time," says Cindric. "I never sent Roger a resume. He has a way of finding the right people."
Penske knew that Cindric had the skills to lead the team to victory in multiple racing series.
"Tim has shown remarkable vision, patience, determination, and a unique ability to lead people," states the Penske Corp. founder and president. "Tim is always looking ahead to the next challenge and he is one of the key factors to our continued success at Penske Racing."
Living a Childhood Dream
Ironically, Cindric's motorsports career began when he was a kid, hanging out alongside his father, Carl, at Herb Porter's Speedway Engine Development operations located on Gasoline Alley, just a few miles from the famed Indianapolis Motor Speedway (IMS). Carl Cindric and Porter built engines for Penske and other IndyCar series teams, and it was Carl who urged his son to get an engineering degree in order to realize his dream of becoming a race car mechanic.
"There's no way I'd be in the position I am now (without graduating from Rose-Hulman). I needed that solid engineering foundation," says Cindric, who was presented the institute's Honor Alumni Award at this year's homecoming. "I watched how hard my father worked building an engine to win the Indianapolis 500. He wanted me to do so much more. If I picked motorsports as a career, he knew that a quality education was the key to success. I have been forever thankful for all of the sacrifices and hard work that's gone into my career."
But Cindric nearly steered away from motorsports, being lured by an engineering career opportunity with a Fortune 500 company.
"It was a very lucrative job offer starting out living in Arizona. It was very tempting," Cindric admits. "I knew that racing was a very difficult business to get into at the entry level. You have to be very persistent and make a lot of sacrifices relative to time, income, and family. You have to have the passion to do it."
Asked to describe his dream project, Cindric says, "I'm living it."
The Person Calling The Shots
When not involved with Penske Racing's many business ventures, Cindric gets back to his racing roots by calling the shots in the pits as strategist for the Verizon Team Penske squad and driver Will Power. The team came up three points shy of winning the 2012 IndyCar Series championship and was fourth this year after winning the last two races of the season. Team Penske teammate Helio Castroneves finished second in the 2013 series standings.
"My job is more than the strategy part of it because just anybody who follows racing could know if you're going to come in or not come in (to pit road)," Cindric says. "It's trying to know your driver and what makes him tick. As the leader of that group, what you're trying to instill is confidence and focus."
And, Cindric utilizes the engineering skills honed at Rose-Hulman on or off the race track. His background as a standout basketball player on campus has also come in handy.
"I took away from Rose-Hulman the knowledge that engineering is a process. There's a thought process and a decision-making process that are key to running a successful business," he says. "In racing, our deadlines never move. The green flag is going to drop on race day, and you're dealing in a very competitive world."
Cindric, a member of Rose-Hulman's Athletic Hall of Fame, adds, "Athletics is all about getting people to work as a team and realizing their importance to achieving the team's goals. In racing, second isn't good enough. Our success from season to season is about getting the right kind of people and giving them the resources to do their jobs. That's what Roger does best, putting the right people in the right places for the team's success."
Cindric affectionately refers to Penske as a "mentor," "father figure," and "good friend."
The respect is mutual, with Penske stating: "From the beginning I saw that Tim was someone that could balance many different pieces of the racing team and do it consistently. The most important thing is his high integrity, on and off the track, which makes a huge difference. In every business that we have, the leadership really decides the fate. I can tell you, [Tim's] the guy there every day. He's the one that calls the shots."
A Racing Legacy Continues
When we caught up with Tim Cindric this fall, he was in the role of proud father and concerned parent as his 15-year-old son, Austin, was behind the wheel of a Porsche 944 Turbo racer in the Historic Racing Series' Savannah (Georgia) Speed Classic event. He's had success driving in 2013 Cooper Tires USF2000 Powered by Mazda series (for Andretti Autosport) and the Skip Barber Racing winter series. Austin began driving race cars at 9-years-old.
"Austin doesn't even have a driver's license and he's behind the wheel of a Porsche 944," says Cindric. He's joined by his wife, Megan, whose father, Jim Trueman, was in charge of one of America's most successful motel brands—Red Roof Inns—and former team owner for 1986 Indianapolis 500 champion driver, Bobby Rahal. The couple's oldest son, Tanner, 18, is a budding entrepreneur, with a Nightrain Clothing line that's sponsoring Austin's race car.
"Every parent enjoys helping their children do what they really want to do," Cindric says. "For now, Austin is continuing the family legacy in racing. Where this takes him, nobody knows."
*Original article credited to Rose-Hulman Institute of Technology: http://www.rose-hulman.edu/news/alumni.aspx